So, what's up with that pink logo?
You may be surprised to find out just who is behind the blasting at Classic Car Blasting. Girly-girl by night and professional abrasive blaster by day, Virginia is not only the owner of Classic Car Blasting, she's the blaster in the booth too! We know just how important your ride is to you, believe me, we are "car nuts" too. Please take comfort in knowing that your "baby" is in good hands...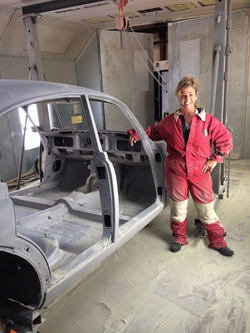 Virginia
With Classic Car Blasting being Virginia's 9th business over the past 20 years, she has the knowledge required to grow Classic Car Blasting into the media blasting resource for classic car owners in New England. Before opening CCB, Virginia spent 5 years in the automotive repair business, where she recognized there was a classic car media blasting opportunity in New England. After she began moonlighting as a "small parts blaster" by night for over 2 years, she acquired the experience needed to understand the business and the skills required to properly handle the parts and equipment.

You won't find another media blaster more passionate and caring about their work. Virginia approaches each customer project as a "work of art" and truly cares about the heritage of each piece she is "saving." Many of our customer's have a family history with their vehicle or at a minimum, are very passionate about their project. This is something that we understand!
---
Contact Us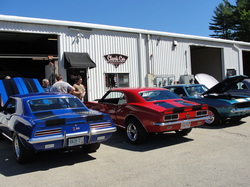 Classic Car Blasting
17 Gigante Drive, Unit #4
Hampstead, NH 03841

Shop Hours:
Monday-Thursday: 7:00 am - 3:00 pm
Friday: 9:00 am - 3:00 pm
Saturday AM: By appointment only

---