Events, Car Shows & Customer Cars
2018 Classic Car Blasting "Cars & Coffee" Car Gathering Calendar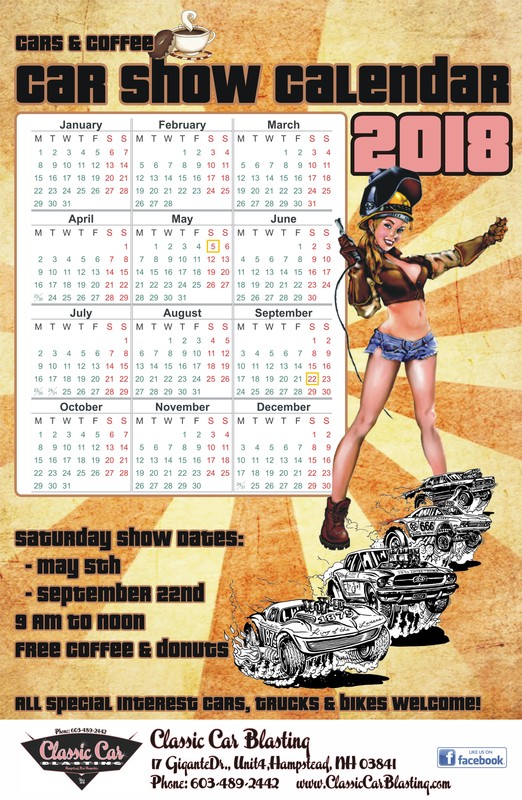 Our shows are more of a car "gathering" than a "car show." We try to keep it simple: Three Saturday mornings per year, cool cars/trucks/bikes, no fees, great people and free coffee & donuts. It's a simple formula that has created a great atmosphere over the past several years.

What makes a great show? Great cars, great people and a fun atmosphere. We have all three!

Dates:

- Saturday, May 5th, 2018
- Saturday, September 22nd, 2018

Time: 9AM - Noon
Location: Classic Car Blasting, 17 Gigante Dr., Hampstead, NH 03841

Participation: Any special interest car, truck or bike!
Cost: Free and open to the public
Free: Coffee & Donuts


We hope to see you at our next show!

---
Summer "Cars & Coffee" June 27th, 2015
Another great day! We'd like to thank everyone that came out for our event, the cars were great but it's the people that make the event. Thanks for a great time!
Just a Saturday Morning at the Shop (June 7th, 2014)

Fall Coffee & Cars at Classic Car Blasting - September 28, 2013

What a great day! We were blessed with a totally sunny day that started at about 58 degrees at 9 A.M. and was 73 degrees by Noon. We had over 40 cars and 8 bikes. Beyond the coffee and donuts, I think everyone enjoyed the great weather and the company of all the local car enthusiasts, as most people stayed until Noon if not later. Our goal is always to create a fun, low-key event where people can just hang out and talk cars for a few hours without any stress or without taking up your whole day...I think we accomplished this!

Thanks to all that attended. We had some really stunning cars this show. As usual, we spent more time talking than taking pictures...next time we will get more pictures!

Next year we will be having Spring, Summer and Fall "Cars & Coffee" shows. We will announce dates in Whip's Wheels as we get closer to Spring. We hope to see you again next year!

East Coast Camaro Club's All Vehicle Show - August 25, 2013

We were a vendor and sponsor of this show that saw over 325 cars on a beautiful day in Hudson, NH.

1st Annual Summer "Cars and Coffee" at Classic Car Blasting - July 20th, 2013
This event marked our 1st show at Classic Car Blasting, and it was a success! There was no chance of rain, but the heat and humidity that we had been getting all week, unfortunately continued. Cars started arriving by 8:30 and we had about 30 cars and 6 bikes total...not too bad for our 1st event! Attendees enjoyed free coffee, donuts and bottled water as well as toured our facility.
Profinishing
had a booth to talk about powder coating with some of their samples, John Bowe showed off his painting skills and Joe Roy had 5 of his custom bikes on display. A good time seemed to be had by all and we will be doing another "Cars and Coffee" this Fall!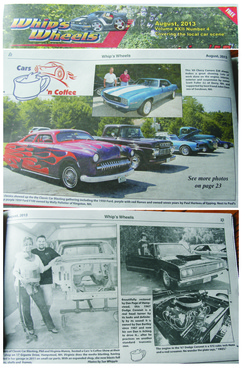 "British Car Day" at 17 Gigante Drive - April 28, 2013
Our neighbor and "bicycle/motorcycle tank painter" John Bowe held a small car show for the New England Triumph Club which also saw a few particpants from the British Car Club of NH. It was a beautiful day with about 18 cars and a few motorcycles. We also opened-up our shop to let show participants peruse the shop and see our work.
Customer Pics